OWhether bringing home a tiny puppy or an adopted adult dog who knows basic commands, engaging in dog training is a must for every pet parent. There are also times when beloved dogs, who have been part of a family for years, pick up a bad habit and require behavioral adjustment.
When researching methods regarding best practices for training dogs, pet owners don't always recognize the value of training tools. By listening to customers, considering their training issues, and identifying appropriate products that can help pet owners when engaging with pets for training, retailers can help shoppers learn the best methods and the latest trends in dog training.
Workout Personality Types
Planning a dog training strategy requires pet owners to consider the personality and needs of their pets, while keeping their own preferences in mind.
"[A lot of the time,] people like quick fixes," says Chris Mushenski, president of Canine Innovations, Inc. "They don't want to mess around with long and expensive training sessions."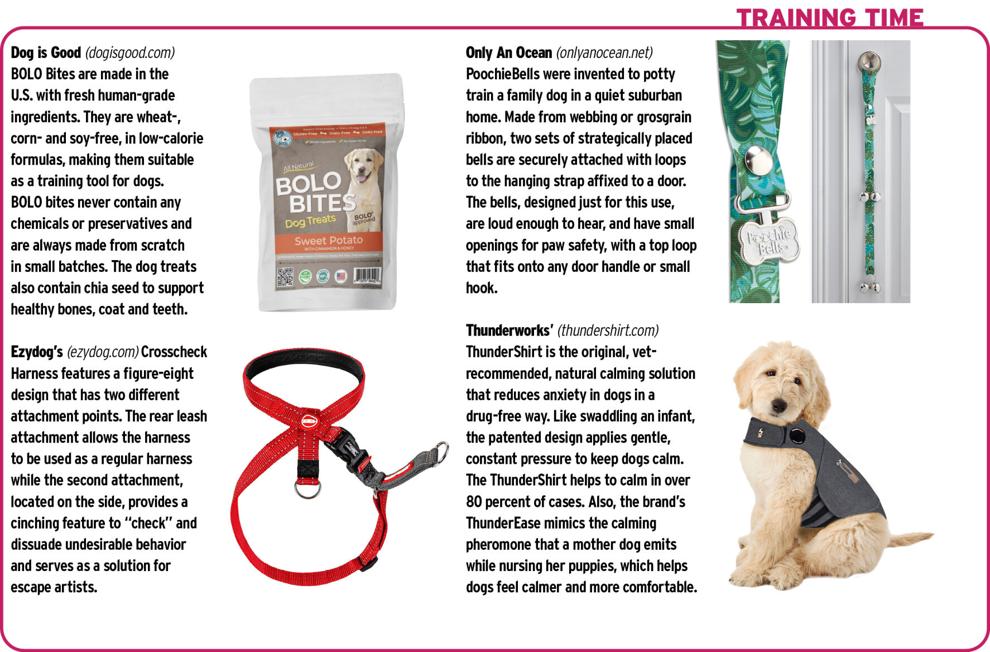 Mushenski is the co-inventor of the Pet Convincer, which offers a more streamlined solution for treating and correcting bad behavior in dogs. It is a compressed air device that uses food grade CO2 to create a blast of air. Pet owners and licensed trainers can pull a trigger and send a blast of air to a dog's shoulder, mimicking the way a mother dog would give a correction.
From now on, each animal and each parent will learn differently. Developing strategies that address issues, such as the relationship between pet parents and their dogs, the age of the animal, and whether any previous training has been given, are crucial to the decision-making process when searching for the best products.
"Because of the difference in temperament, certain methods will work better for some dogs than others, and some pet parents will be more likely to use certain methods than others," says Emily Benson, Marketing Director of Starmark Pet Products. "The goal is to establish effective communication between the animal's parents and their dogs in order to build a close and lasting relationship."
When store associates approach these pet parents, they should be prepared to listen carefully to the customer's description of their dogs and help develop the training strategy by suggesting tools that provide pet-specific solutions. .
"There is no one size fits all for pet training products because all dogs are different in how they respond and learn," says Kevin Dalby, associate marketing director at PetSafe. "Sellers can help identify the best dog products by being knowledgeable about all the training products they carry."
The type of training needed is also an important factor. When teaching a new behavior, there are several different methods for teaching a single task. For example, in the more specific field of pad training, it is important to identify the needs of each dog. Puppies will have different training needs than adults. Dogs that have been part of a family since childhood will also need different instruction than a dog adopted into a home as a middle-aged pet.
"It's important to offer a wide range of premium solutions to customers," said Nick Carter, chief revenue officer for pet supplies.
"Some dogs can get by with a small, economical pad for occasional accidents or known "problem areas" in the home. Indoor dogs, incontinent dogs, and especially multiple dogs need coverage and support. Maximum Absorbency Most dog owners would be much happier with the results if they used a better, larger pad rather than overlapping many smaller pads.
In this space, Carter has noticed an increase in interest as pet parents return to work. After nearly two years together at home during the COVID-19 pandemic, leaving the dogs behind to go to the office requires a period of transition.
"More than ever, busy professionals and city apartment dwellers rely on puppy pads to protect their floors when Fido is home alone," Carter notes. "They're also handy for older or disabled dogs who can't always make the trip outdoors."
Training trends
In dog training, updates to proven methods and innovative tools offer new approaches to teaching animals acceptable behaviors or new tricks. Today's training methods rely on reliable strategies and aim not only to correct the behavior, but also to allow dogs to learn more about it.
"Reward-based training methods, where dogs receive a reward for completing a task, are a growing trend for pet owners," Benson says. "The most common of these methods is clicker training, where a clear, consistent auditory cue from the clicker is paired with a reward, such as food or a toy. This method helps dogs become active learners and solve problems when figuring out how to earn their reward.
A pet parent's approach will also make a difference regarding the effectiveness of dog training. Pet parents should avoid becoming frustrated or angry with dogs, according to Dr. Roger Mugford, chief executive of company of animals.
"The gestures and language of the trainer or owner are key here, so less scowls, scoldings… and certainly no use of electric shock devices or anything else that causes pain, eg spiked or spiked collars," says Mugford. "Clicker training is now mainstream dog training, and not just a tool for professionals. Play is a key motivator, so managed access to a squeaky ball or Kong can be a good alternative to treat-based training.
At Company of Animals licensing partner, the PupPod, CEO Erick Eidus sees more technology being applied to the dog training products market. Eidus notes that the next generation of pet parents – Millennials and Gen Z – enjoy greater purchasing power which provides more opportunities to invest in emerging technologies.
"They grew up on the internet and the idea that their beloved family member is often left out of their digital life just doesn't make sense," says Eidus. "Over the next decade, these consumers expect to have products that are part of a connected ecosystem and deliver new digital experiences at the intersection of smart homes and online gaming. They want to play remotely with their furry children, leverage technology to reinforce good behavior, but also take pride in seeing their pet learn new things, just like parents of human children.
At the very heart of training is a perennial trend of pet parents who are also willing to learn. Retailers should stress the importance of a training experience that also includes pet owners learning to use tools to optimize the teaching experience. When working with pet owners, retailers also need to be aware and knowledgeable to a degree that allows them to recognize when professional training is a necessary next step.
"Retailers should remember that while dogs are the ones being trained, they are not the only ones 'using' the training product, and pet parents should understand how to use the product fully and consistent for it to work for their pet," Benson explains.
"Training does not happen overnight. Any issues with biting or aggression should be referred to a training and behavior specialist for safety reasons.
Staying aware of their role as problem solvers is important for retailers as they guide pet owners to the best choice of training tool. The well-being of the dogs must remain the priority during the process of selecting training tools.
"The most important thing retailers need to remember is that these aren't just products to sell: they're tools to keep pets healthy, safe and happy, and that goes way beyond a transaction," says Dalby. "Retailers need to prepare people to be successful with the product, which can mean having educational or training materials available for purchase, offering courses, helping the customer understand where to find answers on the manufacturing website, and more." BP